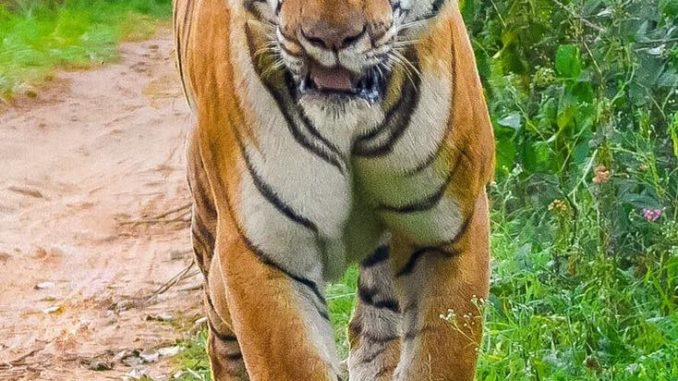 Once a hunting reserve for Maharaja of Mysore Kingdom, Bandipur National Park and Tiger Reserve stands over 874 sq. km area today for the sole purpose of protecting the endangered wildlife species and saving the valuable sandalwood trees.
The reserve was declared a forest Tiger Reserve in 1974 under the protection of Project Tiger – Govt.'s ambitious campaign to save Indian Tiger species. It is located in Karnataka state of South India and is wildly popular for its flora and fauna diversity. Karnataka has the highest population of tigers in India. The management and upkeep of the reserve are known to be one of the best in the country.
Bandipur National Park has a warm and comfortable climate throughout the year. The temperature usually ranges from 240 to 28oC and is accompanied by erratic monsoon showers. The downpour occurs from June to September bringing inadequate moisture and irrigation for the reserve to get blanketed by a thick green cover.
History – Bandipur National Park
The foremost Bandipur Sanctuary was conceptualized and created in 1931. The project was patronized by Maharaja of the kingdom of Mysore. What he created was a protected area of 90 sq. km named as Venugopala Wildlife Park. Nearly two decades post-independence, around 800 sq. km of an area was amalgamated to Venugopala Wildlife Park. Thus, Bandipur National Park and Tiger Reserve came into being under the tiger project. This was in 1973.
Later, this reserve became an essential part of the Nilgiri Biosphere Reserve, which is the largest wildlife protected zone in South India. In addition to the Bandipur Tiger Reserve, the Nilgiri Biosphere Reserve includes 643 sq. km of the adjoining Nagarhole National Park, 320 sq. km of Mudumalai National Park and 344 sq. km of Wayanad Wildlife Sanctuary. Together they form 2,183 sq. km of the protected zone which is the largest habitat of wild elephants in South Asia.
Flora and Fauna – Bandipur National Park and Tiger Reserve
Mammals:

The reserve is home to multifarious varieties of medium to large-sized mammals. They include – Tiger, Leopard, Indian elephant, Gaur, Sambhar, Sloth Bear, Wild Boar, four horned Antelope etc.

Birds: Bandipur sees over 200 species of birds flying and chirping in its skies. Peafowl is the most commonly seen bird variety here. Honey buzzards, Indian vultures, Hoopoes, Indian rollers, brown fish owls are some of the others.
Reptiles:

Spectacled cobra, Indian rock python, vipers, rat snake, Indian chameleons etc are few of the popular reptile varieties in Bandipur Tiger Reserve.

Butterflies:

There are around a 100 butterfly species in this reserve. Some of these beautiful varieties are crimson rose, mottled emigrant, spotless grass yellow, orange bush brown, common palmfly, nigger, peacock pansy etc.

Flora:

Bandipur Reserve area is enriched by various timber tree varieties. These include Teak, Sandalwood, Indian kino tree, clumping bamboo, Rosewood etc. Apart from these tall standing residents, the reserve has several shrubs and flowering-fruiting varieties that make Bandipur horizons appear like a painter's rendition. You will find Gooseberry, Kadam, Odina Wodiyar, Flame of the Forest, Indigo Berry, Golden Shower Tree, and many others.
Safari Details -Bandipur Tiger Reserve
Bus, Elephant safari and Jeep safari are available at Bandipur National park. The elephant safari is about an hour long, while the Jeep Safari may last for about 2-3 hours. Maximum of 6 people are allowed in a Jeep. However, you can also book it for a single person.
Steer clear of anyone offering a night safari at Bandipur. They are trying to dupe you and may even land you in jail. Official safaris aren't available beyond 6 PM in Bandipur Tiger Reserve. Night safaris aren't allowed and are, in fact, a legal offense.
Places of Interest In & Around – Bandipur National Park
Wayanad:
It is an exquisite hill station nearby Bandipur. Here you will find lush green paddy fields lapped between majestic Western Ghats Mountains. There are many trading centers and wildlife sanctuaries here.
Ooty:
It is not for nothing that Ooty is called the Queen of Hill Stations. Tall standing mountains capped in snow, snug atmosphere, dense forests, miles and miles of tea gardens are waiting for you to stretch your arms and reach them.
Thekkady:
Located 160 miles from Trivandrum, Thekkady is arguably the most exotic of natural beauties you will ever see. It's quite ironical that this gem of nature is further enhanced by the presence of a man-made lake in the area. Tourists come from faraway lands to breathe in the serenity of this place.
Bandipur Souvenir Station:
Here you can find a collection of stationery, clothing, furniture etc all designed on themes of wildlife and nature. One or the other item available here will become lifetime reminder of your amazing trip here. The place is located half a KM before the Tiger Reserve.
Reaching Bandipur National park and Tiger Reserve
By Air: Bangalore airport that is 220 KMs away, is the closest stop for air travelers.
By Rail: The nearest railhead is Mysore, standing 80 KMs away from the Reserve.
By Road: The place is well connected to all major cities through roads. Ooty is about 80 KMs away from here.